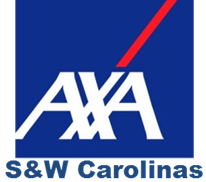 Welcome to the AXA Advisors South & Western Carolinas Branch. We are headquarted in Charlotte, with primary detached locations in High Point/Greensboro, Columbia, Greenville (SC) and Charleston.
Our branch works hard to help individuals and businesses to achieve their financial goals. We have close to 100 financial professionals in the South & Western Carolinas positioned to help you make educated financial decisions. We consider ourselves to be among the best at what we do and look forward to the opportunity to work with folks like you.
We hope that you take a few minutes to explore our site and become familiar with the services, products and tools that we have available. Thanks for visiting!
Join Our Firm
As one of the nation's premier financial services organizations, AXA Advisors is seeking highly motivated and enthusiastic individuals with an entrepreneurial spirit and the desire to help others achieve their financial goals. If you or someone that you know is interested in a career with AXA Advisors, please click on the "Career Opportunities" to the right.
We'd like to help you explore this great career path!
Use this calculator to estimate the cost of your child's education, based on the variables you input.

Is your personal inflation rate higher or lower than the CPI?

How much do you need to save each year to meet your long-term financial goals?

How Long Will It Take to Pay my Balance?